Contact Us!
(361) 578-0107
Location
4406 N Laurent St
Victoria, TX
77901
Hours
Mon - Fri: 8:00 AM-5:30 PM
Sat - Sun: Closed
A Tradition of Excellence. A Passion for Eye Health.
See what our eye care center in Victoria, TX is all about
How often do you think about your eye health? If you don't wear corrective lenses or live with progressive vision loss, you might think that yearly eye exams aren't that important. We offer contact lens exams, eye care services, retinal exams, cataract surgery & more. But with the amount of strain that you put on your eyes every day, vision loss can happen gradually over time, making it even more important to stay on top of your eye health.

South Texas Eye Center in Victoria, TX offers all the eye care services you need. Whether you need yearly eye exams or specialized laser treatments, you can count on our local optometrists, ophthalmologists, and retinal specialists to keep your vision clear and crisp.
Best of the best 2023 Winner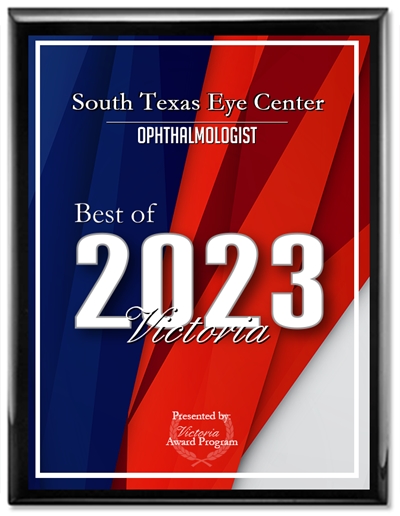 Your trusted eye care center
South Texas Eye Center has been serving Victoria, TX and the Gulf Coast area for over 40 years. We've established a long-standing reputation for quality eye care using state-of-the-art technology and treatments. We've set a gold standard for eye care centers across the state.

Visit us today to take control of your eye health.
Serving Victoria, TX for Over 40 Years
Meet with a local optometrist you can trust
We'll take care of your eyes
Our local eye care center offers more than just basic vision exams. We provide a wide range of eye care services to make sure your eyes are healthy all around. You can come to us for:
Glasses and contact lens exams
Cataract and glaucoma evaluations
Retinal surgeries and laser treatments
Our licensed optometrists and retinal specialists will get to the root of your vision problems and help you find solutions for better eye health. We strive to provide a stress-free experience for all our clients, and we accept a wide range of medical and vision insurance plans.

Schedule a consultation today.
South Texas Eye Associates and Surgicenter has been serving Victoria and the Gulf Coast area for over forty years.
Our office is conveniently located in central Victoria and provides a warm and comfortable setting for our patients. Both examinations and surgical treatments have been performed in our facility for the past 40 years. During this time our Medicare-Approved ambulatory surgery center, solely dedicated to eye care, has been a model for other dedicated surgery centers throughout the State of Texas.